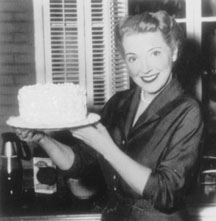 Here are my answers for the Kitchen Swap. Thats my idol above, Betty Crocker! But interestingly enough, that wasn't her real name! Her name was Adelaide Hawley Cumming and she was hired by General Mills in 1949 to assume the character of Betty Crocker, a corporate logo invented in 1921. Well there you go.
What colours are you kitchen?
My kitchen is a bit plain. White walls and tiles and an off whitish/grey laminate colour for the benches and cupboards. The most colourful things are the purple tea towels!

What is your favourite appliance?
My favourite appliance is our rice cooker. But I'll have to hang my head in shame by admitting that I have never used the thing! We brought it in the post Christmas sales just recently and Daz has been the one to always put the rice on. He is the cook in this relationship!
What do you love cooking most?

Well I'm really good at one dish, I make a mean lasagne! Love cooking that. Otherwise I'm a biscuit kind of girl. The girls like helping me cook biscuits.

What item would you love the most from your swap partner?
Is it cheeky to ask for a live in maid?? LOL Always seem to be doing dishes! I'd like most things to get me out of the kitchen! Material??! Whatever one would like to swap is fine by me. :)