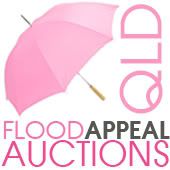 The news over the last week from Queensland has not been good. The images of the floods are just unbelievable. Heartbreaking. And to think we were in Brisbane last week! And now it is flooded. I feel like I can't do much sitting up in this corner of Australia and then saw that Toni from Make It Perfect has come up with the great idea of holding some auctions amongst the crafting blogging community.

On Monday 17th January, she will have a master list of bloggers who will be running auctions from their blogs, selling products that they make or from their stores. Auctions will close at midnight on Monday 24th January. Some are up and running now so I am putting up the following quilt for auction.


It measures 37 x 44 inches. It is made from Lila Tueller Santorini's charm squares.


The back. I can make a label for the winner if they would like.


A close up of t
he stippl
ing. The colours on this quilt are lovely.



How this auction will work:


1. Bidding will start at $30 (Australian).
2. You can place a bid by leaving a comment on this blog post with your bid amount and email address. Please make sure that your bid is higher than the previous bidder.
3. Your bid must be in whole dollar increments.
4. This auction is open to everyone, however $25 will be charged for International addresses, I will cover the rest.

Postage is FREE for Australian residents.


5. The auction begins NOW and will END at midnight on Monday 24th January 2011 (AWST).
6. At the close of the auction, I will contact the winner (please make sure your bid comment includes your email address). The winner will pay the winning amount directly into the Premier's Flood Relief Appeal and send me proof of payment via email. Once proof of payment has been received, I will post your quilt to you.
7. Thank you for participating and happy bidding!!! Please someone bid!